Today, in fact, more examples of macOS Big Sur have been announced. It is more like a system specially prepared for today's M1. But at the same time it can run two sets of software on different platforms. Apple seems to be worried that people question whether mobile chips can do professional work, so most of the presentations are professional apps, such as professional music production software Logic Pro X, video post-editing software Final Cut Pro, and synonymous with image processing Adobe.
In addition, Craig Federighi, Apple's senior vice president of software engineering, mentioned Rosetta 2 again.
The original Rosetta was released in 2006 when it was also used by Apple to switch the computer chip camp. It was to facilitate the transition from Power PC chips to Intel's new products.
15 years later, Rosetta 2 is here. It is a built-in emulator in macOS Big Sur, and the Mac that will use the M1 chip will still run Intel applications.
Rosetta 2 can "translate" instructions written by Intel processors into commands that Apple chips can understand. In theory, developers don't need to make any changes to their old applications; they will work. It will support the x86 version of Mac in the next few years.
Rosetta 2 exists mainly as a bridge during the transition period, allowing users to have the same experience as previous Intel computers when using Apple chip computers. Apple believes that ordinary users do not need to pay attention to it.
macOS Big Sur will be released on November 13th, Beijing time. This is the latest computer system update in the calendar year, perhaps to wait for today's product.
3) Some Mac products using M1 chip + macOS Big Sur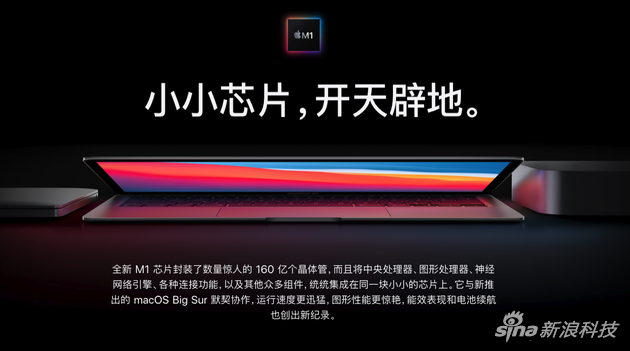 Three Macs with M1 chip released
With their own chips and systems, of course they must be integrated. Today, three consumer products using the M1 chip were released, namely the 13.3-inch screen MacBook Air and MacBook Pro, and the portable desktop computer Mac mini.
These three computers, no matter the name or the outline, are actually based on the previous mature products. You can understand that Apple has changed the core of the previous computer.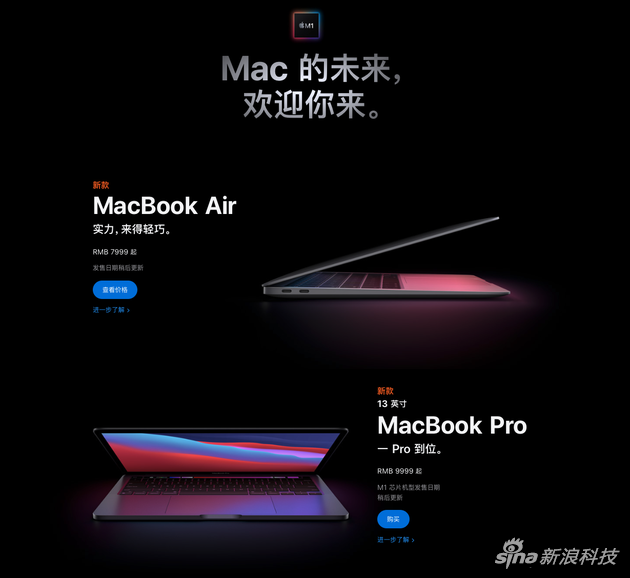 MacBook Air and MacBook Pro
Most of their parameters are actually the same as the original Intel chip version, such as a 13.3-inch screen, P3 wide color gamut, a maximum of 16GB of running memory (RAM), a maximum of 2TB of hard disk, fingerprint recognition, Wi-Fi 6, etc. ; For users, the battery life may be easier to distinguish from the appearance, MacBook Air can reach 18 hours, MacBook Pro can reach 20 hours, which is almost twice the Intel version… Also on the nominal parameters The energy efficiency ratio of the M1 chip, which was particularly emphasized at the beginning of the press conference, was verified.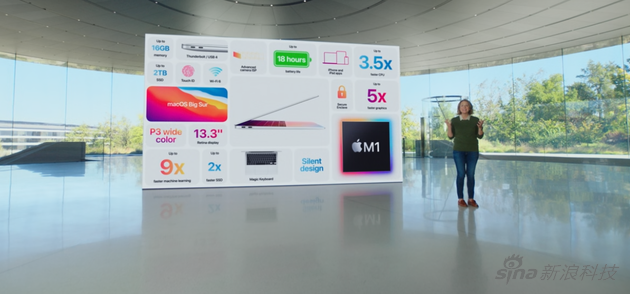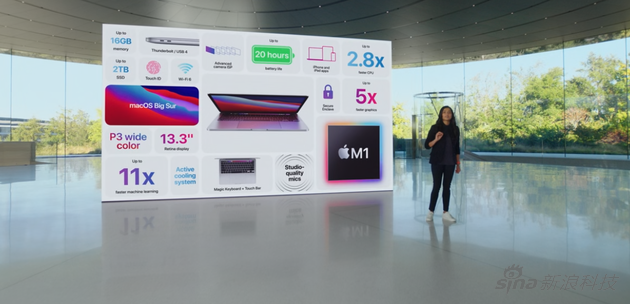 No matter Air or Pro, it is a heart-changing product
The Mac mini is a desktop computer and does not involve battery life. If you don't see it running, many people may not be able to recognize the difference between it and the Intel version.
These three computers are currently logged on Apple's official website in China. Mac mini equipped with M1 chip is priced at 5299 yuan and 6799 yuan, while Apple still provides the Mac mini with Intel i5 processor at 8299 yuan. MacBook Air is priced at 7999 yuan and 9799 yuan, and Apple no longer provides products with Intel processors. The MacBook Pro is priced at 9999 yuan and 11499 yuan, and the version with the Intel Core i5 processor is priced at 14499 yuan and 15999 yuan.
From this price and positioning comparison, we can also see Apple's mind. Apple has removed all low-end computers that were previously equipped with Intel chips, and the current entry-level products are all M1 chips. Although the release date of the M1 version of the computer is uncertain, Apple seems to intend to use them as the vanguard to try to shake the industry's thirty-year dominance.
Of course, regardless of success or failure, this is a protracted battle for ordinary users. At the WWDC conference, Apple thought that there would be a transition period of several years. How long this time will take depends on Apple's actions and also The speed of third-party developers.
The latter may be more critical.
  Summary: Apple's combination of software and hardware expands to the computer industry
What Apple is most proud of has always been its "excellent combination of software and hardware." On mobile phones, they have almost mastered all the key links: from CPU to GPU, things can be handed over to be manufactured or assembled, but the core technology must be firmly grasped in their own hands. This, coupled with the moat of its own software ecology, forms a closed city and stabilizes its position.
Mac is one of Apple's most important product lines. Even when the global computer industry is growing slowly and becoming a "sunset industry", the Mac series of computers still form Apple's ecological barrier along with the iPhone. Its importance is self-evident.
In this closed city, there are not many opportunities for others, and Intel has always been one of the few. After the contract was signed 15 years ago, the two parties also had a long honeymoon period, but in recent years Intel's toothpaste-style update has significantly slowed down Mac product planning and updates. Even if this is not the case, Apple will not leave such an important position to others forever.
The road of self-developed chips is not easy, but if Apple wants to build a complete closed loop belonging to Mac computers, Intel is the one who must drive out of its own city.