Sina Digital News reported on the morning of December 18 that Parallels, a well-known virtualization software for the Mac platform, announced that the new Parallels Desktop 16 for M1 Mac technology preview version has been launched. This software cannot run an Intel x86-based operating system and can only be used under the ARM architecture. Use, which means that some users can use Win 10 on Macs with M1 chips.
  Parallels is by creating a "new virtualization engine that uses Apple's M1 Mac chip hardware-assisted virtualization" to allow users to run ARM-based operating systems, such as Windows, in virtual machines.
  Apple officially launched the M1 processor-based MacBook at the October press conference, declaring its determination to switch from the x86 instruction set to ARM. Although the M1 chip Mac has advantages in battery life and "performance", there are many regrets, such as the maximum limit of 16GB of memory, the inability to connect a dedicated display, etc., and the key point is that it is impossible to install Win10 through Boot Camp. It is still very inconvenient for users who cannot do without Windows in some office scenes.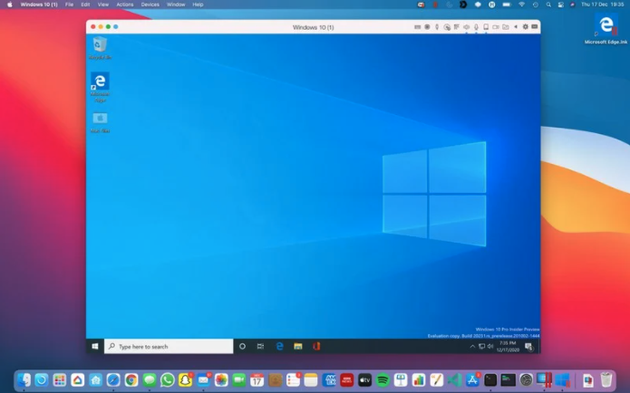 Mac virtual machine Parallels shot
  Users can now visit Microsoft's official website to download the Insider Preview version of Windows, and then they can use Win10 on the M1 chip Mac. If you have not joined the Insider Preview program, you need to register to apply.
  Soon after Apple released the M1 chip Mac, Parallels announced that it would develop a version of Paralles for the Apple Silicon processor platform. Demo shows that relying on Rosetta 2 to compile the x86 version of Parallels, Linux can already be successfully run, but the company still decided to develop Parallels for general code, making the software more efficient.
  Parallels Desktop 16 was first released in August and is suitable for Intel-based Macs. However, the universal binary has been updated since then and will gradually be available to M1 chip Mac users in the future.
  It should be pointed out that Win10 on ARM is not a fully optimized platform, and Win10 on ARM Mac is probably also a niche demand. However, since the release of the M1 chip Mac, Microsoft's performance is still very positive, and soon pushed its new version of Microsoft 365. After the update, the most core Office applications, including Word, Excel, PowerPoint and OneNote, are now available on the M1 Mac. It runs more smoothly. (Yu Ze)
  However, there are still some minor issues in Parallels 16 Technology Preview Beta1, including:
  The Intel x86-based operating system cannot be installed or started in the virtual machine.

  It is impossible to suspend and resume virtual machines,

  When the virtual machine is running, it is not possible to use the "close" button-but to shut down the virtual machine.

  ARM32 applications cannot work in a virtual machine.