The digital blogger broke the news that the first model of the new glory after its independence, the Honor V40, has officially passed the review of the Ministry of Industry and Information Technology. It comes standard with Huawei HW-110600C0x charger and supports up to 66W charge pump fast charging. Guilin, running Android system.
The blogger previously revealed that the current HiSilicon Kirin version of the Honor V40 series has been cut, and that only models with the MediaTek Dimensity series 5G chips remain.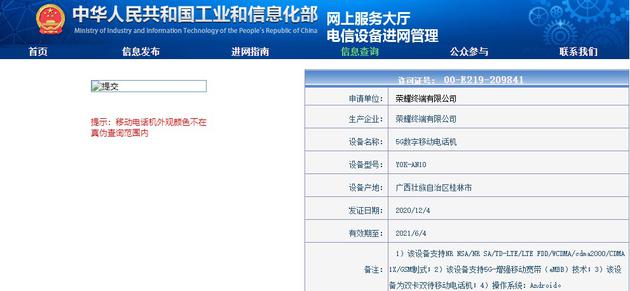 IT Home learned that on November 26, 2019, Honor released two models, the V30 and V30 Pro, equipped with Huawei HiSilicon Kirin 990 SoC, starting with 6GB of storage, and it is the industry's first full system to support 5G dual-mode full Netcom Cell phone. For reference, the initial price at that time was:
The price of the 6GB+128GB version of the Honor V30 is 3299 yuan;
The price of the 8GB+128GB version of Honor V30 is 3699 yuan;
The 8GB+128GB price of Honor V30 PRO is 3899 yuan;
The 8GB+256GB price of Honor V30 PRO is 4199 yuan.