In addition, its screen axis is made of a single aluminum rod, and 1988 normal sound holes are realized by laser cutting, which is visually beautiful and practical. When the user turns the screen (≤270°), the sound direction of the hinged speaker is always facing the user, ensuring the same sound experience in different modes.
In addition, it has also passed the Dolby Atmos sound certification. The four Dolby Atmos speakers with a total power of 8W bring users a loud and infectious sound experience.
· 4096-level pressure-sensitive stylus dual Thunderbolt 4 full function extension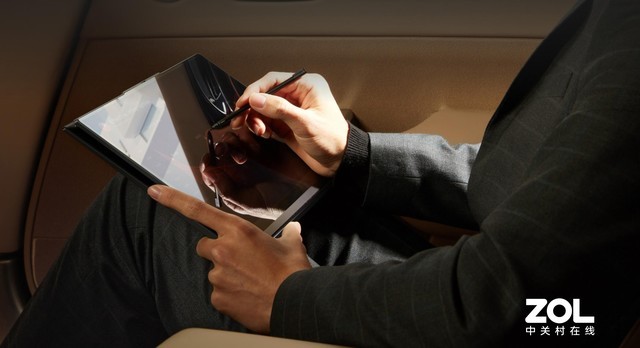 In addition, at the application level, in addition to the flexible use of the flip screen, the YOGA Pro 14c 2021 is equipped with a compact 4096-level pressure-sensitive stylus on the right side of the rear of the fuselage, making writing and drawing more convenient. At the same time, as long as you insert the pen slot, you can directly charge inside the body without worrying about its power consumption.
In the past, even in flip-screen laptops, the position of the power button was designed in the keyboard area. But if you have actually used it, you will find that it is more inconvenient to switch on and off when the laptop is in standing, tent, or tablet mode. Lenovo YOGA Pro 14c 2021 obviously takes this detail into consideration, so the power button is designed at the back of the right side of the fuselage, so that no matter which mode it is in, it can be easily switched on and off.
On the left side of the fuselage, YOGA Pro 14c 2021 is surprisingly equipped with a standard USB 3.2 GEN1 TYPE-A interface, with two Thunderbolt 4 full-featured high-speed interfaces, bringing users a convenient extended experience. At the same time, this machine will also come with a Type C HUB, which can be expanded with HDMI, VGA and USB TYPE-A interfaces, which is very intimate.
In fact, for users who have a large amount of data transmission needs, the Thunderbolt 4 interface can provide a transmission speed of 40Gbps, which is 4 times the fastest ordinary USB interface. At the same time, it can also support 65W PD fast charge, dual 4K and single 8K video output, and can also support external graphics cards to improve overall graphics performance.
·HDR 400+ Dolby Vision dual certification, high-quality look and feel
On the screen, Lenovo YOGA Pro 14c 2021 is 14 inches in size and has a resolution of 3840×2160, which is 4K resolution. Its maximum brightness is 500nits, and the content displayed on the screen can be seen clearly in bright light environments. In addition, it has passed the dual certification of HDR 400 and Dolby Vision, providing cinema-level visual enjoyment.
Movies that support Dolby Vision often have extremely powerful graphics. Take the following two videos as an example. Under normal circumstances, the color of a notebook that is not certified by Dolby Vision is wrong when playing the video. For example, the earth in the demo film should be blue and the sun should be yellow. Notebooks that do not support Dolby Vision cannot display the correct colors when playing videos, while Lenovo YOGA Pro 14c 2021 can restore the Dolby Vision. The impact of the picture.
Left: No Dolby Vision certified playback effect. Right: YOGA Pro 14c 2021 playback effect
Left: No Dolby Vision certified playback effect. Right: YOGA Pro 14c 2021 playback effect
In terms of overall quality, Lenovo YOGA Pro 14c 2021 also performed very well. The specific test results are as follows:
First look at the color gamut coverage. This screen supports more than 100% sRGB color gamut coverage (test software up to 100%), 84% AdobeRGB, 90% P3, and 80% NTSC color gamut coverage.
In terms of color accuracy, the average ΔE value of this screen is 2.13, and the overall performance has reached the level of professional-level monitors. For users in the field of creative design, this screen can also provide a sufficiently excellent visual experience and correct color reproduction.
·Equipped with 11th-generation Core Duo top processor
Lenovo YOGA Pro 14c 2021 is positioned as a flagship product overall, so it is unambiguous in terms of hardware performance. The whole series is directly equipped with the strongest core in Intel's 11th generation low-power processor family-i7-1185G7. In addition, it is also equipped with 16GB LPDDR4X memory, 1TB NVMe PCIe 4.0 solid state hard drive, and is also equipped with Intel Iris Xe core display.
Let's take a look at the actual performance of this hardware?
The Intel Core i7-1185G7 processor is built with a 10nm SuperFin transistor process, based on a fully optimized Willow Cove micro-architecture design, with native 4 cores and 8 threads. The main frequency is 3GHz, the turbo frequency acceleration can reach 4.8GHz, the three-level cache is up to 12MB, and the dynamic TDP range is 12-28W. Manufacturers can adjust TDP according to their own needs to adapt to different heat dissipation designs and battery life needs.
Because Lenovo YOGA Pro 14c 2021 supports Fn+Q beast performance mode, the overall performance in the CINEBENCH R15/R20 test standard is quite good. Under CR15 standard, its single-core score is 217cb and multi-core score is 887cb; under CR20 standard, its single-core score is 574cb and multi-core score is 2055cb. According to this score, its TDP is probably controlled at about 24W.